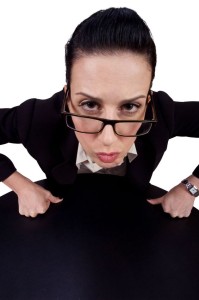 Does your insurance agency have an online presence? Perhaps you have a website such as a Facebook, LinkedIn or another social media page. Maybe you're listed on a review website like Yelp. An online presence can be a great way to attract new prospects. However, there is the potential for unsatisfied customers to post a negative agency review on an online social media page or business listing. Protecting your online reputation is important to your agency's success.
Responding to a negative customer review online can be tricky. Ignoring a negative review or comment can make it look like you have something to hide. You will want to acknowledge any customer concerns left in a review while taking care to avoid any comments that can be interpreted as negative toward the customer.
You will want to make your response as brief as possible while taking time to address the customer's concerns. Your reply should contain an acknowledgement, an apology and an offer to discuss the experience. Try to avoid including your agency name in your response to keep the negative review from showing up in your agency's search results.
Even if a complaint is not valid, you should apologize that the customer had a negative experience. If possible, take the conversation offline. Offer a name and phone number/email for the customer to contact you to discuss the situation. In time, what the customer will remember most is that you were willing to address his concerns.
Staying in touch with your customers is critical to your agency's success and growth potential. This includes maintaining a positive online presence and responding to customer concerns in a timely manner. Customer feedback is an important way you can identify and correct any customer service problems and maintain a positive relationship with your customer base.